For Shelly Sanders, Standing Still is Not an Option
Shelly Sanders career as an educator has taken many interesting twists and turns that have helped propel her to where she is today working as an assistant principal at an elementary school.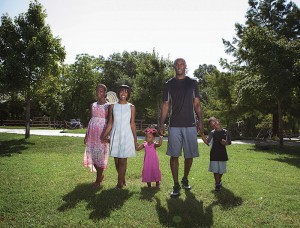 As the first person in her family to attend college, it makes her professional journey that much more impressive.
"Graduating from college wasn't the norm in my family, but I always wanted to be a teacher," says Sanders, who was born and raised in Kansas City, Missouri. "From elementary school on, I had amazing teachers who told me I could go to college. I was fortunate to be given a chance to attend Lincoln College Preparatory Academy in Kansas City."
Sanders says having friends with similar goals at Lincoln College Prep helped her achieve her dream. "We would see the posters for college visits and our group went to every one we could find," says Sanders. "We would borrow cars from our parents, ask for some gas money and off we went. I really had no clue about Mizzou, but after the overnight visit, I knew this was where I wanted to be."
After being accepted to Mizzou, Sanders says she still wasn't sure how she was going to pay for college. "I worked all summer to save money," she says. "I received a diversity scholarship and financial assistance, a Pell Grant and loans. I worked part-time at the front desk at Hatch Hall and then worked off-campus at an apartment complex to help make ends meet."
She was tapped into Mortar Board her senior year and graduated magna cum laude with a bachelor's degree in education, majoring in elementary education. "I think very highly of my experience here," she says.
Sanders says having friends with similar goals at Lincoln College Prep helped her achieve her dream.
After graduating from Mizzou Ed in 2003, Sanders taught 5th and 8th graders at Columbia Public Schools for three years before returning to Mizzou Ed to earn her master's degree and initial principal certification. She then relocated to Georgia where she taught 4th and 5th graders in Cobb County for two years. Her next move took her across the world when she accepted a teaching position at a small international school in West Africa where she helped launch the school's first English curriculum program.
Returning home to Kansas City one year later, she then became a Read 180 and System 44 classroom teacher and school coordinator at Derrick Thomas Academy. A year later, she was presented with an opportunity to work for Scholastic Inc. as an implementation consultant. However, the heavy travel schedule for a mother with a young family necessitated another professional change and she accepted a position as a teaching and learning coach in North Kansas City Public Schools. Three years later, Sanders was named assistant principal of Gracemor Elementary School in North Kansas City Public Schools.
"I am a true believer that if you're not stretching yourself, you're not growing," says Sanders. "That's why I still want to earn a Ph.D. or an Ed.D. Of course, it will be at Mizzou. And I hope my children are going to be Tigers one day."