MU College of Education Students are #MizzouMade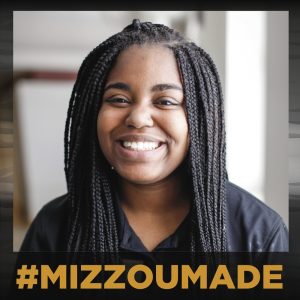 Mizzou student finds her niche
Aitriona Peterson-Ramey, a middle school education major with an emphasis in language arts at Mizzou, is a Columbia native. Because of her close proximity to campus growing up, Peterson-Ramey says Mizzou's education program quickly caught her eye.
"In Mizzou Ed, I'm able to get into the classroom right away," Peterson-Ramey said. "There's never a moment where I feel like I'm not helping someone!"
Peterson-Ramey says that she's met many of her best friends at Mizzou and that the campus fosters a community where people of similar interests can meet and bond. One of her favorite Mizzou activities is catching up on homework near the Columns.
Peterson-Ramey's advice to students is to get involved as soon as possible on campus.
"College is a great time to find your niche, so join all the clubs you want and take time to get to know people. You'll be happy you did!"
---
Making Career Goals a Reality
Anne Blaha says she chose Mizzou because it offers students hands-on experience when it comes to their studies.
"As an out-of-state student, I looked for a college that would give me early hands-on experience in the classroom and would work to help me transfer my credentials should I wish to go back home after college," Blaha said. "Mizzou Ed met all my requirements and then some!"
Blaha is an elementary education major at Mizzou and also a member of the Ambassadors Leadership team. She says her favorite part of being an ambassador is meeting prospective students and sharing with them why Mizzou Education is top-notch. Blaha believes that her experiences at Mizzou have helped make her career goals a reality and that her professors have primed her for real success.
"If I positively impact at least one student, I will have completed my goal," Blaha said. "To be a positive force in the lives of children is all I aim to do."
Besides her involvement in education, Blaha is also pursuing minors in English and History, and is a chapter officer in her sorority, Kappa Kappa Gamma.
Blaha's strongest impression of Mizzou came from her older sister, who attended the university first and showed Blaha all the Mizzou traditions on campus. Her first Mizzou tradition was riding the famous tiger sculpture south of Jesse hall.
"Way back when I visited my sister as a young high school student, I rode it for the first time, and it's one of my first memories of Mizzou," Blaha said.
Now, as a student herself, Blaha has had more time to explore the campus and discover the features Mizzou's Botanic Garden has to offer. Blaha says that she is a bit of a history fanatic, and as such she loves the Francis Quadrangle and being around the Columns. She says that on a sunny day, you can usually find her studying near the Columns on a blanket.
As Blaha has settled into her place at Mizzou and is looking forward to the future, she finds time to reflect back on her early college search and give advice to prospective students.
"Take some time to enjoy the process and recognize that, while no place is perfect, you will find your niche wherever you end up."
---
A home away from home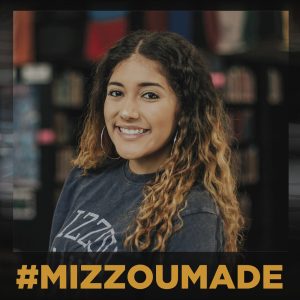 Catie Williams says that the moment she stepped on Mizzou's campus, she felt connected to all that the university has to offer.
"When I applied and came to visit I felt like Mizzou was home," Williams said. "I loved the campus environment and the people."
Williams, a junior majoring in elementary education, says that she had a lot of adjusting to do when she moved to Missouri because she was used to life in Mississippi. Besides getting used to the famous temperamental Missouri weather, Williams discovered her favorite places on campus, including the Student Center and the resource centers.
Williams says she looks forward to taking more of the opportunities Mizzou has to offer, including the sweet breakfast options offered at Rollins Dining Hall.
"The chocolate chip pancakes are the bomb!"
---
Great university, great community
Emmy Hankins, a senior in elementary education, says that Mizzou is a great place to not only get involved on campus, but also engage with the Columbia community. Because she moved around quite a bit as a child, Hankins says she never really felt like she had a hometown until she moved to Columbia to attend Mizzou.
"Mizzou is home to me because of the people that I've surrounded myself with," Hankins said. "It's given me people in my life who make me feel energized and powerful."
Hankins says her favorite memory at Mizzou has been participating in Mizzou Alternative Breaks, a service organization that connects students with service opportunities. Last year, Hankins led an international service trip to the Dominican Republic, where she worked alongside 20 other Mizzou students.
"During this week-long trip, I was able to serve an incredible community and foster friendships and connections between fellow Mizzou Tigers," Hankins said. "While I wasn't on Mizzou's campus, Mizzou gave me the opportunity to grow my passion for service, people and education."
Hankins says her inspiration to become a Tiger came from her older sister, who introduced Hankins to the beauty of campus and all it had to offer. Seven years ago, Hankins and her sister stood on the top of the Virginia Avenue parking garage, reflecting at the end of a long day getting ready for school to start.
"As the sun was setting, I looked out. We could see the entire campus filled with opportunities and experiences to come for her, as well as one of the most beautiful sunsets I had ever seen," Hankins said. "Fast forward three years, and now it's me, the freshman at Mizzou standing on the top of Virginia Avenue parking garage with my three roommates looking over our beautiful campus ready to tackle the next four years."
---
A school of pride
Janae Walsh, an elementary education major from Plano, Texas, says her first impression of Mizzou came after a friend convinced her to visit the school. Walsh says she was pleasantly surprised by what Mizzou had to offer and applied to attend the College of Education.
"The College of Education is the main reason why I love Mizzou so much," Walsh said. "I tell people on tours that on such a large campus, the college really makes you feel like you belong."
Walsh says that besides the allure of the academics, she wanted to attend a school that is full of pride. Walsh felt drawn to Mizzou's beautiful campus and the thriving downtown community. Her tour with the College of Education was the final selling point, Walsh says, because the program sounded robust and encourages students to join a variety of different organizations. Walsh says her experiences as a tri-director for the Ambassadors Leadership Team have solidified her love for Mizzou.
"I have made so many friends and connections with faculty and staff through this organization," she said. "I really enjoy giving tours to prospective students."
---
Education major makes the most of campus life
Jennifer Cotter, an elementary education major from Dallas, says Mizzou offers the kinds of experiences you'd be hard-pressed to find at other schools within the state. For example, the College of Education values giving students the chance to practice their skills in real classrooms, so that they are better prepared for life after graduation.
"I chose Mizzou Ed because I like how you can get into the classroom early," Cotter said. "Also, I like how easy it is to get and understand information to help me become a great teacher."
When she isn't learning how to become a great elementary school teacher, Cotter devotes her time to being an Education Ambassador on campus.
"I love that I am a part of an organization that involves my major," Cotter said. "I'm able to meet people in my major and make new connections."
Cotter says taking part in Mizzou traditions such as attending football games are an important part of making the most of campus life. Her advice to students?
"Come to college with an open mind and just be yourself! There are so many opportunities here, and it is important to take every one you get!"
Read more #MizzouMade stories
Share your story