#MizzouGivingDay Donor Profiles: Christine and William Linnenbringer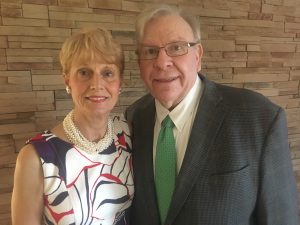 The William A. and Christine A. Linnenbringer Education Scholarship supports undergraduate students in the University of Missouri College of Education.
The couple met at Mizzou and were married after graduation. Christine (BS ED '70) became an elementary school teacher with the Ritenour School District in St. Louis. Bill (BS Acc '70) become a Partner with Price Waterhouse.
Bill and Chris Linnenbringers' personal thoughts on Giving Day:
"With today's economic climate and the cost of higher education we want to help students financially who may not otherwise be able to attend Mizzou.  As a family of three generations of teachers we know how important it is to support our future teachers.  Many people can point to one or more teachers who inspired them, and we hope to play a small part in helping to turn today's students into tomorrow's inspirational teachers."
"Meeting at Mizzou and marrying after graduation was an obvious influence on our lives.  Beyond that, Mizzou prepared us well for our careers.   We made lifelong friends at Mizzou and with Bill's involvement with the Business School's Strategic Development Board we have Mizzou friends from across the country.  The Missouri Alumni Association and the Davenport Society continue to provide us with an ongoing connection to Mizzou."
"Knowledge, of course, is a very important part of being a teacher, an accountant or any other profession, but caring about others is equally important.  We know that Mizzou will provide the knowledge to succeed in all professions.  Also, we hope that all Missouri students and alumni are caring individuals."