College of Education Has Record-Breaking Year of Philanthropy
$200 million raised by the University in 2019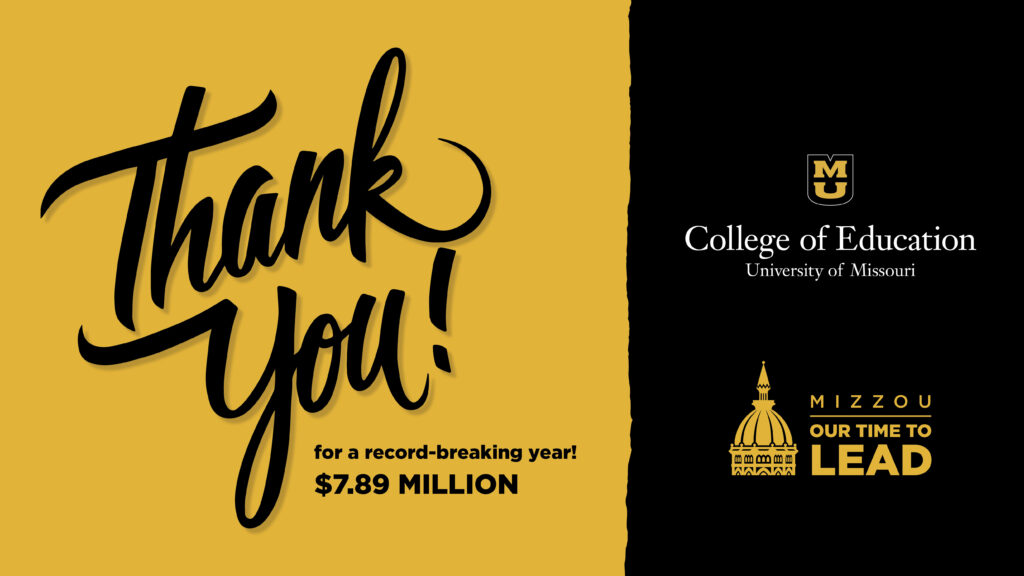 The University of Missouri College of Education had a record-breaking year in philanthropy, raising a total of $7.89 million in gifts, officials announced July 10.
"The generosity of our donors continues to have a tremendous impact on student, faculty, and program success," said Dean Kathryn Chval. "Our number of donors have increased by 45 percent since 2015, and they are excited about our partnerships to advance education. I feel like we're just getting started."
The University announced a record-breaking year in giving, receiving $200 million in total gifts this academic year, including pledges for future funds – an 18% increase shattering the previous record of $170 million set in 2016.
This year's giving brings the Mizzou: Our Time to Lead campaign total to more than $1.2 billion, $50 million shy of the campaign's $1.3 billion goal.
"Our record-breaking fundraising year is impressive, but the real story is the impact these gifts have on our students, faculty and staff," said Vice Chancellor for Advancement Tom Hiles. "What inspires me the most are the scholarships that support our students, the faculty funding that allows us to recruit and retain excellent researchers and the capital that builds world-class teaching and research spaces. I will put our team and Mizzou donors up against anyone in the country."
This year, Mizzou also broke previous records for annual giving, which includes gifts under $10,000 that were received in full. Small gifts totaling $21.3 million were given to support many initiatives at Mizzou, including scholarships and research.
"This exciting trend proves that time and again, Mizzou alumni and friends are dedicated to strengthening Missouri's flagship university," MU Chancellor Alexander N. Cartwright said. "We are proud to have some of the most generous supporters in the nation, and the gifts they've given will be transformative for current and future Mizzou students."
"This has been a campaign of record-breaking success," said Richard Miller, Mizzou: Our Time to Lead campaign cabinet tri-chair. "Again and again, the halls of Jesse have echoed with applause and cheers as we have celebrated the role of philanthropy and how this truly has become our time to lead."