Laurie Kingsley Receives Award for Distinguished Teaching
Second straight Maxine Christopher Shutz Award for MU College of Education faculty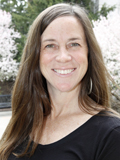 Laurie Kingsley, associate teaching professor in the Department of Learning, Teaching and Curriculum, is the 2016 Maxine Christopher Shutz Award for Distinguished Teaching. She was presented the award in a ceremony on Oct. 19 at the Reynolds Alumni Center.
As a result of the generosity of the late Byron T. and Maxine Christopher Shutz, an endowment was established in 1982 to recognize distinguished teachers from the Columbia campus. The Maxine Christopher Shutz Award and Lecture for Distinguished Teaching is presented to a faculty member who has demonstrated extra efforts to involve undergraduates in active learning experiences and to personalize the undergraduate experience of students.
Kingsley's lecture was entitled, "Preparing Tomorrow's Teachers: A Focus on the Positive," and focused on how the campus events of Fall 2015 have improved the college and her teaching. In a transcript, Kingsley notes six lessons she has learned:
Focus on building relationships
Establish a culture where everyone is valued
Treat everyone at the table like they are the smartest person in the room
Listen
Strive to be culturally competent
Learning opportunities must be authentic and meaningful
"As a teacher in the MU College of Education, my teaching is driven by the guiding question: What effect do I have on my students' abilities to impact the world?" Kingsley said. "Teaching is about listening carefully, and then responding to student needs. As the world changes, our teaching must also change. We are preparing our students for careers that we don't yet even know will exist."
Dean Kathryn Chval noted that Kingsley's teaching is innovative, challenging, relevant, and appreciated by her students. Chval stated, "Dr. Laurie Kingsley has demonstrated a strong commitment to teaching at Mizzou. Imagine if we could replicate her commitment and talent."
Additional MU College of Education Maxine Christopher Shutz Award for Distinguished Teaching recipients include: Leigh Neier, LTC, 2015; Kathy Unrath, LTC, 2012; Erica Lembke, SPED, 2011; Renata Maiorino, LTC, 2005; and Roy Fox, Curriculum and Instruction, 1996.