Elementary and Secondary Principal Certification (EdSp)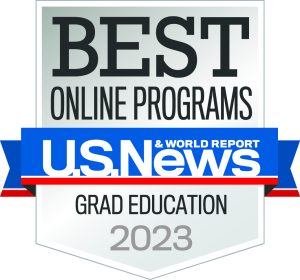 The EdSp program prepares students to become inquiring, reflective school leaders at the school and district levels. We serve a diverse population of graduate students who are making a positive difference in students' lives.
The program is delivered through a series of authentic learning experiences and formative assessments designed to meet the individual and group needs of students in each class. Students are expected to demonstrate their competence across a broad range of school and district issues such as instructional leadership, organizational development, fiscal and legal compliance, professional ethics and responsibility, professional development, and internal/external interpersonal relationships.
Classes are typically taught as "hybrid" courses, which include online coursework and face-to-face meetings on weekends. Typically, in the Fall and Spring semesters, classes meet once a month on Friday evenings and Saturdays, during the day. In the summer, courses meet on Fridays and Saturdays, but only for three weekends during the first (June) or second (July) summer sessions. Please check MyZou to confirm instructional dates for each course prior to enrollment.
For additional information about the degree program, please visit Mizzou Online.
Learning Objectives
Through the program, students will gain the knowledge to:
Understand that communication must occur among diverse groups concerning trends, issues, and potential changes in the environment in which schools operate;
Understand various types of data and translate them into useable information;
Appreciate diversity in students, teachers, parents and communities;
Articulate a vision of academic and personal success for all students;
Demonstrate the importance of building and sustaining sincere and respectful relationships with teachers and fellow administrators.
Through the program, students will have the skills to:
Create and sustain a positive climate and culture based on high expectations for student and adult achievement;
Manage a building to ensure safety and promote pride;
Model and promote social justice;
Foster a disposition of continuous learning and personal improvement;
Respond to community interests within a school and/or school district;
Promote an environment in which schools operate that is influenced on behalf of students and their families.
Make fiscal and legal decisions consistent with Missouri and Federal policies.
Certification
The program meets the requirements for both building-level and district-level certification requirements in Missouri, as well as many other states. Graduate students who already possess a Missouri Initial Administrator Certificate (building-level) can use the degree to meet requirements toward a Missouri Career Administrator's Certificate (building-level) and/or a Missouri Initial Superintendent Certificate (district-level). Students interested in career certification must have served four years as an administrator and received two years of mentorship from a mentor approved by the state. Students who do not have a Missouri Initial Administrator Certificate may apply the degree toward certification at the building-level as well as toward the district-level superintendent certificate. For building-level certification, students will have to successfully complete a performance examination during their course work and a certification examination at the end of their course work. Both are required and offered by the Department of Elementary and Secondary Education, not by the University of Missouri. District-level certification requires successful completion of a certification examination at the end of coursework. For more information about certification, see the Department of Elementary and Secondary Education.
Certification Candidate Perfomance Data
Degree Requirements
The EdSp degree is a 30-hour or more program of study, which includes the following required courses and a maximum of six internship hours:
There are ten required courses:
ELPA 8423: Advanced Leadership for Learning Environments
ELPA 8419: Structures and Processes for Effective Schools
ELPA 8417: Site-Level Organization and Leadership
ELPA 9429: Superintendent: Communication, Team Leadership
ELPA 9424: Superintendent: Instructional Leader
ELPA 9461: Ethics in Education
ELPA 9420:  Superintendent: Fiscal Leadership and Management
ELPA 9435:   Superintendent: Legal Leadership and Management
ELPA 8424: Education Politics and Policymaking
ELPA 8431: Leadership for Data-Driven Change
Internships & State Assessments
Two internships are offered as part of the EdSp program:
ED LPA 9481: Principal Internship
ED LPA 9481: Central Office/Superintendent Internship
Internship hours will vary depending upon how many certifications the student desires. Students may take more than six hours of electives if the student does not need the internship credit associated with a particular certification (building or district level). If a student already has, or does not desire to have, any type of certification, then internship courses are not required.
As of 2016, all EdSp students must take one assessment at the completion of the program, specifically, a multiple-choice, constructed-response content assessment developed by Pearson. This assessment is the "capstone" examination for the EdSp degree, and it is required for certification by the Missouri Department of Elementary and Secondary Education (DESE).
The ELPA department will cover the cost for students to take this content assessment while enrolled in the degree program, typically during the last semester of coursework. In order to qualify for the cost to be covered, you must notify the department of your intention to take the examination at the start of the academic semester in which you plan to complete the assessment. Prior to registering for the examination using the Missouri Educator Gateway Assessments portal, you will contact the department to request a voucher number that you will use to defray the examination cost.
Students seeking initial principal/building-level certification must also register for the state-required Educational Testing Service (ETS) Performance-Based Assessment during their semesters of internship. Although the actual assessment is not covered or scored during coursework, it is necessary to complete it during the internship(s) included in the EdSp program.
Please note: Students who enter the program with elementary and/or secondary principal certification do not have to take the performance assessment, even if they are seeking principal certification for a different level. For example, if students hold elementary principal certification and want to seek secondary principal certification in the EdSp, they do not have to complete the performance assessment.
Apply
Admission Requirements
GPA of 3.0 (4.0 scale) in the last 60 hours of undergraduate education from an accredited institution
GPA of 3.5 (4.0 scale) in graduate studies in education (master's degree) from an accredited institution
Teaching experience preferable

To be eligible for principal certification, teaching experience is required by the state of Missouri.
To be eligible for superintendent certification, a teaching certificate is required.

Minimum scores accepted by the MU Graduate School for TOEFL, IELTS, PTE, or the Cambridge C1 Advanced exams for non-native English speakers
Three letters of recommendation (at least two of which should be from faculty who instructed or academically advised the applicant)
GRE scores are not required
Application Deadlines
To start summer semester: March 1
To start fall semester: July 1
To start spring semester: October 1
Applications will be reviewed three times each year. Students will be informed of the results in enough time to enroll for the following semester. All materials must be submitted by these deadlines, when application review will begin.
How to Apply
To apply, please visit the MU Graduate School online application system.
For questions about how to apply, please contact us:
Department of Educational Leadership & Policy Analysis
573-882-8221
elpa@missouri.edu
Assistantships
In rare instances, a minimal number of departmental research or teaching assistantships are available for qualified students who are not working full time. Priority is given to PhD students; however, interested EdSp students are encouraged to apply.