Alumni Spotlight: Angela Sample, MA-LIS ('07), M.Ed. ('09), Ph.D. ('17)
Posted in: Alumni | LIS | News | Spotlight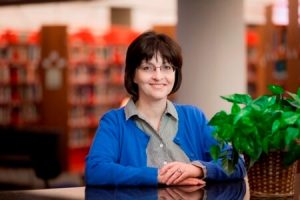 Who says you can't do it all? Alumna, Angela Sample, has successfully completed three programs at the MU School of Information Science & Learning Technologies.
Sample started her trajectory with the completion of a master's degree in Library and Information Science (2007). Later, she attained a master's from our Educational Technologies program, with an emphasis in Learning Systems Design & Development (2009), and completed her doctorate in Information Science and Learning Technologies program (2017).
Currently employed at Oral Roberts University Library in Tulsa, Oklahoma, Sample serves in several capacities. She's a reference librarian, assistant director of Digital Showcase@ORU, and web coordinator for the ORU Library. She also serves as the web coordinator for the Journal of the Scholarship of Teaching and Learning for Christians in Higher Education.
When asked what advice she'd give to prospective students who are considering enrollment in a SISLT program, Sample said, "Be prepared to work hard, but know that you are receiving a top-notch education in your chosen career field and that you will be well-prepared for your future career. Take advantage of as many as possible of the opportunities SISLT offers — they are great preparation for your work. And know that you can do this — it's often a challenge, but you have great student peers and knowledgeable and caring faculty."
Here's more about Sample's decision to attend SISLT and the impact her decision has had on her career and life:
Why did you select to attend SISLT?
My husband was in the Missouri National Guard and deployed to the Middle East three times, so I needed to stay in Missouri. MU SISLT was the only program available for Library Science in the state, and I had heard very good reports on the school.
What did you appreciate most about your experience at SISLT?
I particularly liked the experience I received in Ellis and SISLT with the assistantships I was awarded and I loved the web classes.
How did your program at SISLT impact your career?
I received the skills and training necessary to obtain my position at Oral Roberts University. The web classes, along with the teaching and reference experience have been invaluable in my position here.
What impact has SISLT had on your life?
I would not have been qualified for the work I now do. I even learned of the position at ORU from SISLT's listserv.